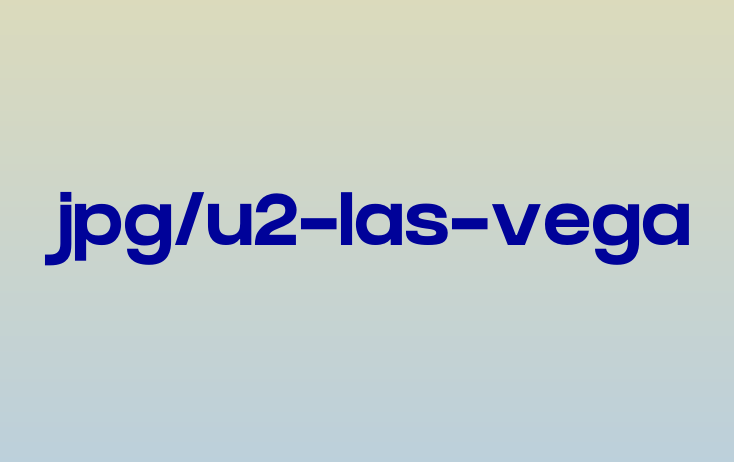 Given U2's reputation for pushing technical and creative boundaries with its live concerts, it seemed fitting that the band opened the anticipated Sphere in Las Vegas on Friday with its most ambitious and transportive live show ever: an electrifying live performance and visual odyssey that unfolds on Sphere's enveloping 160,000-square-foot wraparound interior LED display.
Built for an estimated $2.3 billion, Sphere is a big gamble by MSG mogul James Dolan and Sphere Entertainment Co. (which was formed in April to combine Sphere and MSG Networks) on the future of entertainment. At 336 feet tall and 516 feet wide, the venue is now the largest spherical structure in the world, housing the largest interior and exterior wraparound LED displays. Inside, the enveloping LED display supports a high resolution of 16K, meaning that it delivers images so lifelike that it may make you feel as though you're no longer in a Las Vegas venue but transported into the visual content — something that U2 used to great effect during the two-hour show. Meanwhile, an all-new immersive sound system from Berlin-based Holoplot is configured with roughly 1,600 loudspeakers to deliver the experience to all of the seats in Sphere's challenging design.
Before an audience of an estimated 18,000 (including many Hollywood stars), Bono, The Edge, Adam Clayton and Bram van den Berg (sitting it for band member Larry Mullen Jr.) used these capabilities to debut their dynamic new residency, U2:UV Achtung Baby Live at Sphere, an experience that includes all of the tracks from the Irish band's 1991 album Achtung Baby, such as "One" and "Mysterious Ways," as well as classic hits like "Where the Streets Have No Name" and "With or Without You." U2 also used the occasion to debut its new song, "Atomic City."
From the opening performance of "Zoo Station" — during which the LED display behind the band appears as a cement wall that slowly breaks open as the show gets underway — U2 and the band's decades-long creative director Willie Williams used the orb's LED display as a canvas for a range of visual art, with segments created by John Gerrard, Marco Brambilla, Es Devlin, Williams with Treatment Studio, and Industrial Light & Magic. These experiences include setting viewers in the desert and on the water, immersing them in collages and using the display to flash text messages. The stage design resembles a turntable inspired by the artwork of U2's longtime collaborator and producer, Brian Eno. Meanwhile, the music during the performance was mixed by the band's decades-long sound engineer Joe O'Herlihy.
The third song in the show, "Even Better Than the Real Thing," features a dense visual collage created by artist and director Brambilla about spectacle, using sampled film clips of Elvis Presley, and created with the use of AI tool Stable Diffusion. "It's about the death of Elvis Presley, and it's about the creation of the myth of Elvis Presley and also the downfall of Elvis Presley," Brambilla tells The Hollywood Reporter of this segment. "It basically has a parallel storyline between the birth of Las Vegas from the desert becoming progressively more dense, and it goes through the eras of Las Vegas finally ending in the kind of Disneyland version of Las Vegas, which is today.
"I think the medium fits the concept," he adds of the segment, which also creates a sense of movement in the venue as the image scrolls down Sphere (the speed of the scroll required careful consideration, as movement on a display of that size and resolution could easily overwhelm a viewer).
"Even Better Than the Real Thing" was followed by "Mysterious Ways" before shifting the pace effectively for Bono's moving rendition of "One."
During the show, Bono took a moment to acknowledge bandmate Mullen, saying that this was the first time U2 has performed without him since 1978, while also praising substitute van den Berg, who said, "Let there be no mistake, there's only one Larry Mullen Jr."
At other points in the show, Bono acknowledged the evening's guests including Sir Paul McCartney and Dr. Dre. He also remembered the late Jimmy Buffet, who died Sept. 1.
Late in the show, there's a striking segment created by Lucasfilm-owned VFX house Industrial Light & Magic that uses the LED display to create a view of Las Vegas from the point of view of an audience member standing in the Sphere but as if the walls had disappeared, making visible the famous skyline.
Other works include John Gerrard's artwork "Surrender (for U2) 2023," which features a white flag formed from plumes of water vapor evaporating in a desert landscape. It was designed to point toward a world less dependent on fossil fuels.
Devlin's "Nevada Ark" contains sculptures of 26 endangered species chosen from a list of 152 endangered species specific to the state of Nevada. The Ark is a development of Devlin's Come Home Again installation, commissioned by Cartier and located in the Tate Modern Garden in London.
Before the performance, credentialed guests explored newly opened "Zoo Station: A U2:UV Experience" at The Venetian, which sits adjacent to Sphere. This exhibition includes a Dolby Atmos-enabled screening area where guests can view documentary material about the Irish band.
These guests used a connecting walkway to enter Sphere, which boasts a massive grand atrium on the main floor, and bars and refreshments on each level. The previously teased AI-driven robots didn't make an appearance in the lobby at this performance.
Friday night's show was the first of U2's 25 performances at Sphere, which will run through December.
Sphere Entertainment Co. bet big that it can use the new venue to usher in the next generation of entertainment, and U2 gave it an exhilarating start. Next, it will need to continue to attract innovative acts such as U2 that will use Sphere's canvas to create something dazzling and unique.
More broadly, Sphere's model is aimed at offering a range of content, and that includes attracting Hollywood talent. Postcard From Earth, the first movie created for Sphere — directed by Black Swan helmer Darren Aronofsky — will debut Oct. 6. Meanwhile, the venue's exterior LEDs have already started displaying imagery, including promotional materials, that can be seen across Las Vegas. In fact, this week DreamWorks Animation became the first studio to use the "exosphere" for movie marketing, with imagery tied to its upcoming Trolls Band Together.